Matthew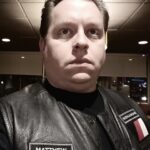 I discovered the public BDSM lifestyle in 2008. Prior to that I lived a modified taken-in-hand, 1950's lifestyle.
I found my leather path in 2010.
I joined The Monarchs, a Leather Brotherhood in 2016.
I am a dominant, sadist with various interests including: impact, electrical-play, knife-play, breath-play and consensual-non-consent.
My non-kink time will find me reading a book, playing retro arcade games, a computer or virtual board game, working with my 3d printer, playing D&D or a real board game, at the shooting range, going for a walk, or watching a classic movie.